3 step process to pour a perfect Guinness:
Well, some may say. It's just like any other drink. Well, The answer to this is 'No'. Guinness typically an Irish drink is  the most popular drink from Ireland. Ask any Irish or anyone for that matter who has poured it earlier the same question, and he will tell you it's not like pouring any other drink.  There is a subtle art when it comes the process of 'How to pour a perfect Guinness' and for sure it's not random. Let's look at the finer details of the art.
Hearing directly from horses mouth, let's look at the recommendation from Guinness itself . Well, The entire pouring process should be divided to three parts.
Part 1:
In the first part, the recommendation is to pour the glass to 3/4th of the total capacity, let it settle down for exactly 2 mins and then top up the pint. It justifies the principle of Good things requires patience. You just need to be patient if you really want to enjoy Guinness.
Also, during the first 75% fill, tap is pulled forward and Guinness is poured with force. The angle at which you need to hold your glass is 45 degrees. Puzzles? Well, this process wont allow larger bubbles but the smaller ones which will settle at the top, making the top extremely smooth.
Part 2:
Now, the next step is to straighten the glass very slowly and let the beer to get settled down for the next 2 minutes. You will observe the bubble have risen to the top.
Part 3:
The final step after 2 min wait is to fill the tap with the tap pulled backward.  It is always recommended to take the first sip gently and horizontally. Once you gulp the top part gently, you could follow it up by  gulping down the rest of the stout with a perfect Beer Marinade dish (Preferably Stout).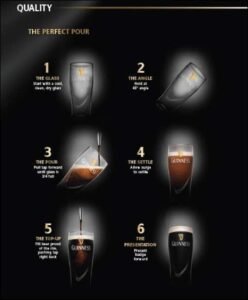 Would love to hear your views and experience or if you have a different and effective style of pouring the Guinness. Please feel free to drop your comments in the comments section below.
Also refer Forbes article on the topic: https://www.forbes.com/sites/sujatakundu/2016/03/11/the-science-behind-pouring-the-perfect-pint-of-guinness/?sh=360b0c36229b